5 Simple Ways to Illuminate Your Diwali Ad Campaign.

Introduction
Festive seasons such as Diwali usher in lots of revenue and opportunity for advertisers. The digital sphere, too, becomes a loud, busy space, decorated with multitudes of ads. Advertising during these periods can be very rewarding if done correctly. However, there are many challenges a brand must overcome along the way, more so for highly cultural and localised festivals.
A celebration observed by over a billion people across faiths, Diwali or Deepavali is a 5 day festival that marks the victory of good over evil. Although it is a predominantly hindu festival, communities across India partake in it. Outside India, it is celebrated in countries with a sizable Indian diaspora. Every year, Indians all over the world rejoice and commemorate this occasion with prayer, feasts, fireworks, and family gatherings.
To prepare for the festivities, Indians start their journeys online. According to a study conducted by BCG, 70% of Indians with internet access go online to browse products, compare prices, and look for promotional offers in nearby stores. The consumption boost during Diwali season is a favourable indicator to advertisers – even new ones for that matter. In fact, a Meta report revealed that 93% of Diwali shoppers are likely to try a new brand in the holiday season and that 80% of Diwali shoppers now discover new brands or products online. This creates a lot of advertisers across verticals who are looking to connect with their audiences.
Here is what to keep in mind for your Diwali Ad Campaign.

1. Choose Exciting High-Impact Formats.
The months leading up to Diwali mark the onslaught of promotional campaigns. Creating entertaining ads is the key to standing out and engaging festive shoppers around you. But an entertaining ad goes beyond carefully chosen keywords paired with creative designs, served over layers of targeting.
Equally as important, but often overlooked, is the format you choose for your ads. Diwali is a celebration that is energetic, vibrant, and colourful in nature. Use high-impact formats that match the festive energy to ensure your brand doesn't get drowned out by all the competition and noise standing in your path to your audiences. These types of ads have a 78% higher chance of enticing a consumer to learn more about a brand or product. They are also 40% more favorable than standard display ads.
Tip: If you're having a flash sale, use a dynamic ad format with an attached countdown bar to mark the sale period. And if you're having a promotion at selected stores, use a map to indicate where! This will spark a sense of urgency and prompt shoppers to act fast.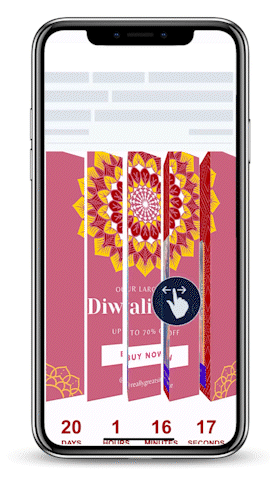 2. Explore Relevant Themes
Imbue your ads with narratives that reflect the essence of Diwali. This builds familiarity and trust, and sparks a more personal connection with your audience. Besides, the last thing people want to come across is someone talking business to them. They'd certainly prefer a good story.

From copy, to CTA, to storyline, construct your ad around the central themes of Diwali. Use words that trigger a positive emotional response and creatively incorporate them in your ads. Remember, Diwali is a festival that celebrates the victory of good over evil. And, It also marks the new year in the Hindu calendar.

On the whole, your ad should evoke emotions of happiness, joy, and celebration. And the message should reflect goodness and new beginnings. It is crucial that your product or service brings out the best feelings in your audience during this celebration.
3. Diwali Aesthetics
In addition to exploring different themes, your creative needs to visually capture the look and feel of Diwali. Use patterns, shapes, and colours to reinforce the diwali spirit and bring on the festive vibe. Portray families and models of Indian heritage to better connect with celebrating audiences.

Draw inspiration from Indian culture. Look for popular textures to replicate in your ads. Depict objects and elements that are intrinsic to Diwali celebrations – such as lights, fireworks and sparkles. Adorning your ads with these details will help solidify the overall tone of the ad. In short, your ads should be vibrant, colourful, and illuminated to match the Diwali mood.

Tip: Take your Diwali Video Ads one step further by using a branded frame. A branded frame is custom frame that houses your video and showcases your brand. This Diwali, create an exclusive Diwali branded frame to enhance your ad and capture your audience's attention.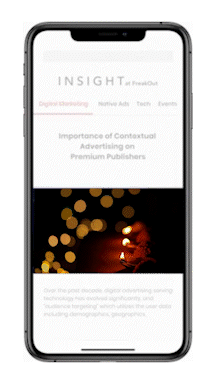 4. Follow Your Audience This Diwali.
With many brands vying for consumer attention and engagement, it is imperative that you follow your audiences this festive season. The consumer journey is becoming more convoluted, so you must leave no stone unturned. Research conducted by Gartner found that Integrated campaigns across 4+ channels outperform single or dual-channel campaigns by 300%. The key is to stay on top of their mind, and you may even find new audiences along the way.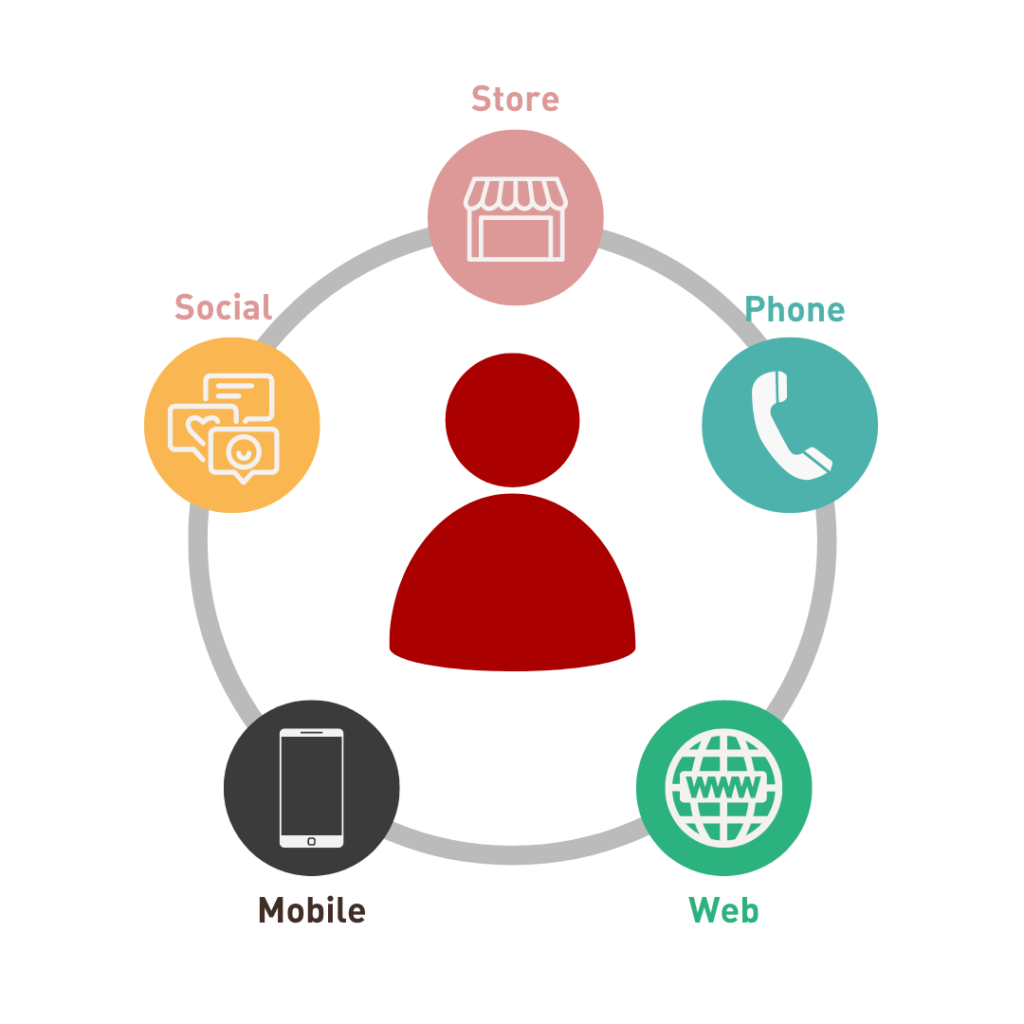 For example, during Diwali, many turn to YouTube for "How-to" videos on cooking and preparing desserts. So, this might be a good time to explore YouTube advertising. An Ipsos study revealed that two-thirds of Indian mothers purchased a product that was advertised on YouTube.

Tools like GP can help you identify relevant videos on YouTube to serve your ad on. Gp's technology also detects and avoid content that is detrimental to your brand, without blocking channels altogether. This helps you ensure brand safety and minimize wasted impressions.

5. Get Targeting Right For your Diwali Campaign
The recipe to a high performing ad is this: "showing the right audience the right ad, at the right time." Your ads should be served on verticals and publishers that are contextually relevant to the theme of your ad. A good ad served on irrelevant sites and platforms will result in wasted impressions. One way to ensure your Diwali campaign's success is by targeting the right verticals. You can even go one step further by tailoring and refining your messaging and creatives for that segment.

Keeping that in mind, serving Diwali themed creatives on a Diwali themed ad spot would be a better idea than bombarding the internet with your ads. Cater to a specific niche and keep the niche in mind when addressing your campaign.
To target each vertical in more depth, reach out to an ad network that can help you serve these ads on premium publishers in the shortlisted verticals.

Learn more about the importance of contextual targeting on premium publishers here

Conclusion
Let your ads reflect the Diwali festival and festivities around it – from theme and aesthetics, to channels and verticals. Remember to:

There is no one-size-fits-all with advertising. Practices differ across industries, audiences, location and more. Keep the above pointers in mind when devising your Diwali ad campaign – or use this framework for other festive seasons!
Reach out to our team to plan your high-performance 360 degrees Advertising Campaign.