Have you made your plans? No, not your vacation plans.. your media plans. The year-end crescendo is upon us, and let's be honest, it's one of the busiest times for marketers. In the final 3 months of the year, Southeast Asia (SEA) experiences a whirlwind of shopping events that extend beyond the traditional holiday celebrations. Yet, for brands, this season signifies more than just tinsel and festive cheer; it represents a dynamic tapestry of opportunities to engage with audiences in the SEA market. The surge of holiday shopping campaigns to capture this festive push isn't just about boosting sales; it's about solving a complex puzzle that demands creative, thoughtful solutions and a dedicated effort.
To help you navigate this shopping landscape, we've put together a user-friendly guide on fool-proofing your holiday campaigns for the diverse markets across Southeast Asia.
Tapping into the SEA Shopping SALE Extravaganza
In SEA, the final months of the year are riddled with mega sale events, especially with discount-based shopping events, 10.10, 11.11, and 12.12 emerging as bonafide sensations and rapidly etching their place onto SEA's shopping calendar. Brands with a keen understanding of the local landscape know that immersing themselves in these sale events is a surefire strategy for finishing the year strong and setting the stage for the new year as SEA.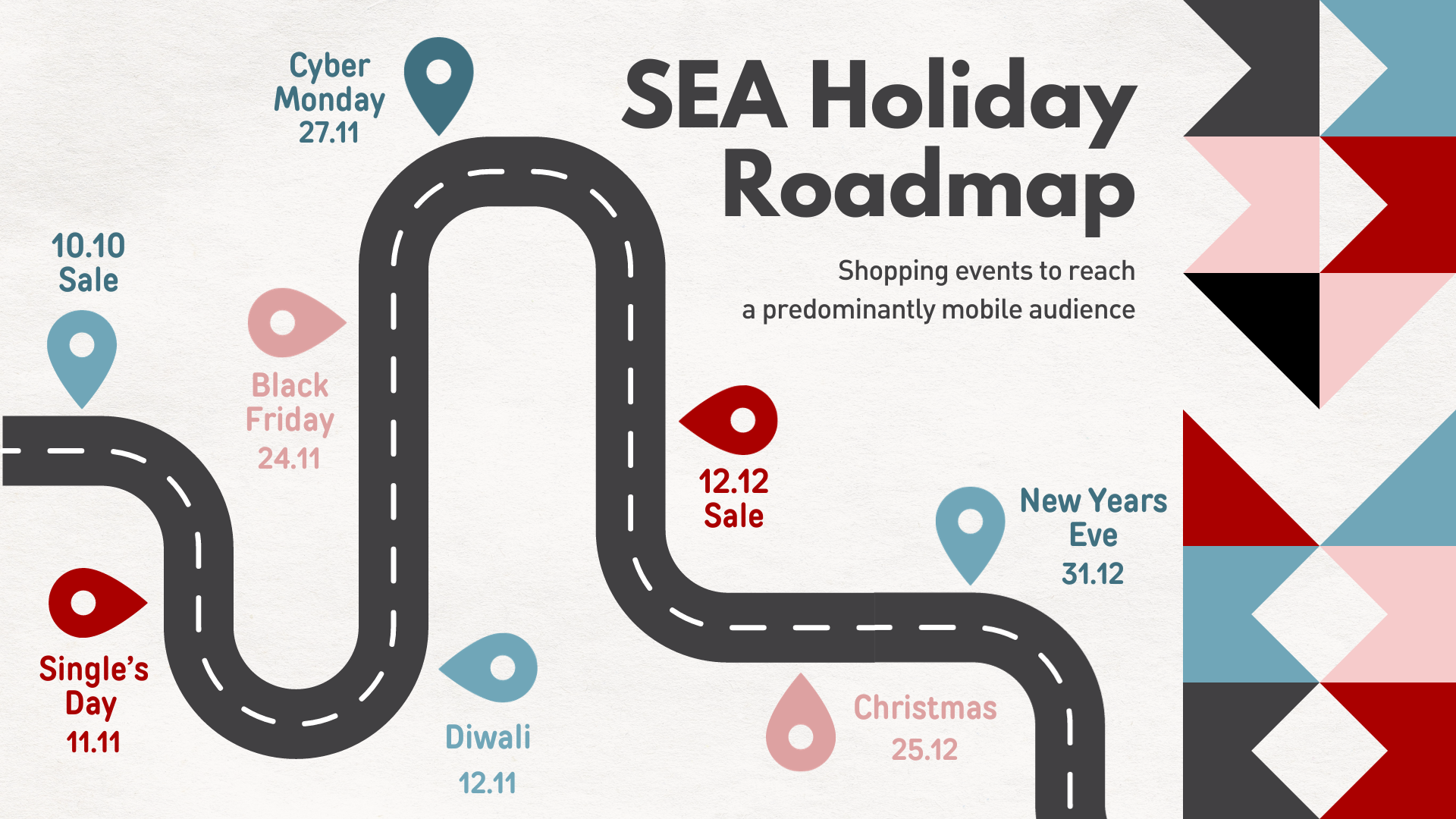 Interestingly, More than two thirds of SEA's online consumers report completing a purchase during a Mega Campaign. Failing to engage in these events or lacking competitive sales strategies can result in significant missed opportunities. So, to thrive in this market, brands need to align themselves with the "sale" culture that permeates Southeast Asia. This means offering compelling discounts and promotions that cater to price-conscious consumers, without compromising on quality. Participation in these sales isn't just an option; it's a necessity for brands aiming to stay relevant and competitive in this vibrant marketplace
Mastering the Pulse of the SEA Shopper
As it is, shopping behaviors in SEA vary significantly across demographics, with factors like age, income, family status, culture & religion, as well as urban or rural residence influencing preferences. For example, Gen Zs shop differently from mothers, and working adults differently from seniors and retirees. In fact, similar demographics from different regions in SEA also display different preferences; Indonesia's Gen Zs shop differently from Gen Zs in Singapore.

During festive periods, these behaviors undergo further transformation as consumers tend to increase spending, travel more, prioritize gift-giving, embrace online shopping, opt for festival-specific products, and demonstrate brand and product loyalty.

To create thriving shopping campaigns, brands must unravel the nuanced fabric of its consumer landscape and pin-point their key demographic. Then brands must seek to understand what it is that drives them. Armed with these insights, brands can then devise a tailored marketing strategy that resonates on a personal and cultural level, select the right digital channels, offer culturally relevant promotions, and deliver their message contextually.
Creating a Buzz
The journey to a purchase begins long before sale periods even kick in. SEA consumers spend a bulk of their buying journey during the "research" phase. 79% of SEA audiences are bargain and category hunters, leaving brands a huge opportunity to gain their attention. Brands should leverage the pre-sale period to build familiarity and trust with their audience. Joining too late in the game, brands risk losing out to their competitors.

Ensure your brand is viewable to your target audience. Use teasers, sneak peeks, and countdown to ignite excitement and highlight your best deals in order to stand out from the competition and keep the momentum surging. It's your chance to not just participate but to lead the race, captivating your audience's attention and ensuring they stay engaged, eager, and loyal, throughout the sale period and beyond.
Embracing Mobile Advertising
Attention spans are rapidly dwindling and screens have become an omnipresent backdrop in our lives. The challenge is clear: capturing the attention of a digitally-connected population, especially during the holiday season when people step away from their daily routines. In Southeast Asian, mobile devices are an extension of oneself, with over 400 million digital consumers spending upward of 8-10 hours online daily.

The key is prioritising mobile marketing from awareness campaigns to shoppable experience. In 2021, 70% of Southeast Asian shoppers use smartphones to explore and buy products. So, whether it's your ads, landing pages, websites, or apps, the goal is to ensure that the shopping experience remains seamless for consumers on the move. Serving ads that are compatible on mobile screens, such as Native, Rich Media, Video is a fundamental component of this strategy.
Maintaining Exceptional Service Despite the Festive Rush
During festive periods, it becomes even more crucial for brands and marketers to uphold a long-term perspective. Closing a sale marks just the beginning of a more important brand-consumer relationship. By providing a smooth post-purchase experience, offering exclusive future discounts and maintaining unwavering customer support, brands can craft an impression that lasts. In simple terms, if you promise a 10-day delivery, ensure it arrives in 10 days. Don't compromise on the quality of your product or the customer service because of the influx of orders or customers. Brands should aim not just to make a sale but to make a life-long customer.

Brands that continue to deliver excellent service beyond the sale have the power to cultivate enduring customer loyalty. And brands that do not ensure a smooth journey alienate their customers forever. Research from Rakuten shows that 70% of Singaporeans would turn away from an online store if they provided bad customer service
Leveraging Insights
During shopping events, the sheer volume of people entering and, at times, exiting the sales funnel can be staggering. The holiday season also ushers in behavioural changes, creating a time-sensitive environment where consumers are less patient, demanding a more hands-on approach from brands. This includes being attuned to these shifts, identifying and addressing any leaks in their funnel to capture a larger share of the market.
In times like this, the true magic lies in data analytics. It's the compass that guides brands in understanding the complex consumer landscape during these bustling sales events. By harnessing this real-time treasure trove of information, brands can refine their marketing strategies and optimize their shopping campaigns to adapt. In a fast-paced, dynamic market, data is the cornerstone upon which brands build their success.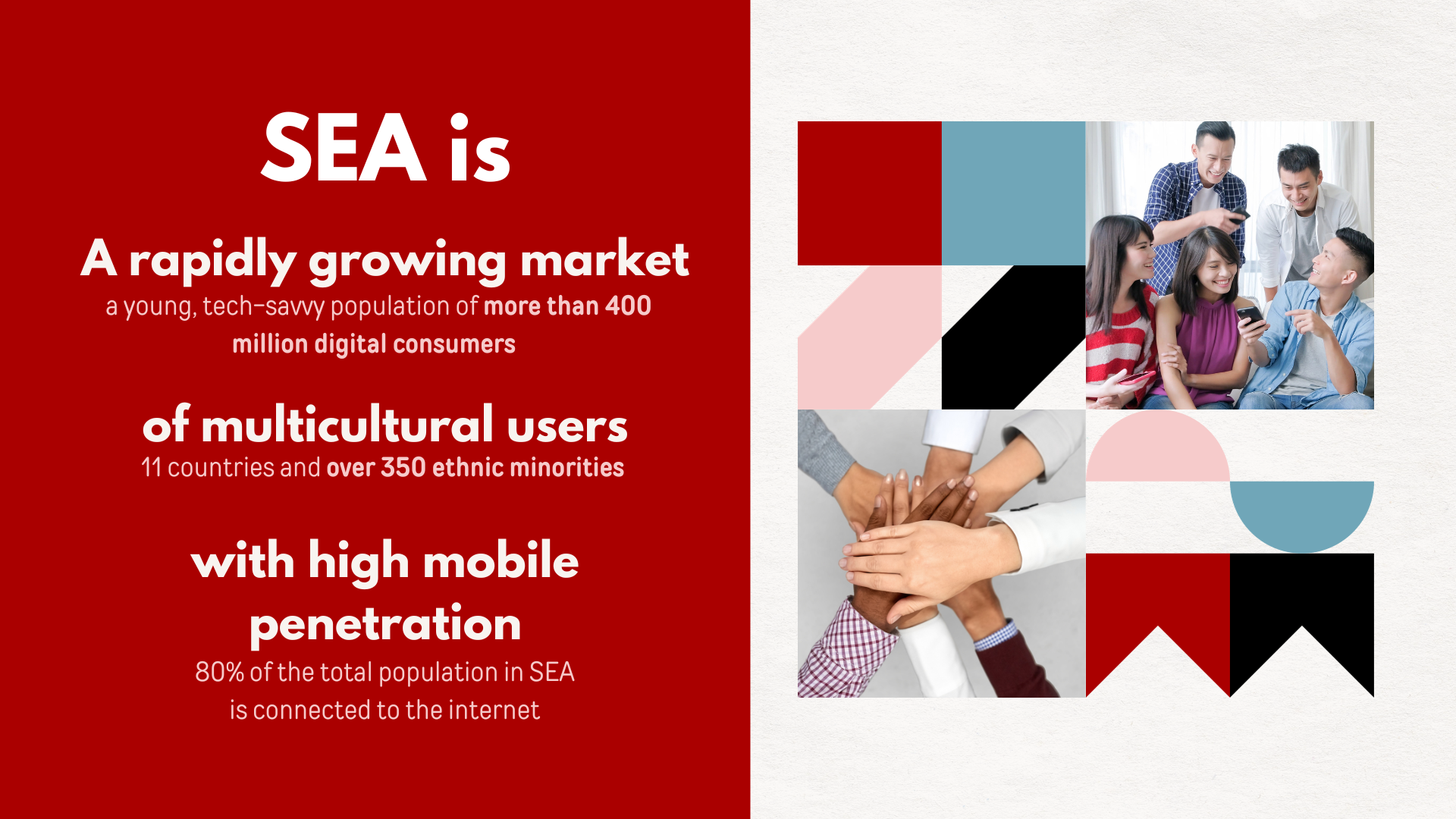 Building Successful Shopping Campaigns
As the year reaches its grand finale, Southeast Asia provides a fertile ground for brands to thrive amidst a tapestry of festive celebrations. For brands in SEA, the year end success story is composed by marrying strategic discounts, locally tailored approaches, digital innovation, and participation in regionally recognized events, allowing brands to create enduring bonds with SEA consumers that transcend mere transactions. In this dynamic region, a one-size-fits-all strategy no longer suffices; instead, it's about understanding the intricate preferences and behaviors of each SEA country and segmenting the approach accordingly
Integrated Shopping Campaigns with FreakOut
The cornerstone of memorable and impactful shopping campaigns lies in brands' ability to tell a cohesive story. This not only means adopting on more than just one channel, it also involves leveraging multiple formats to convey your message. When you tell your story through various formats, maintaining a consistent message across these channels, you reinforce it across your audience. This creates a more seamless flow through the sales funnel, nurturing your prospects effectively and leaving a lasting impression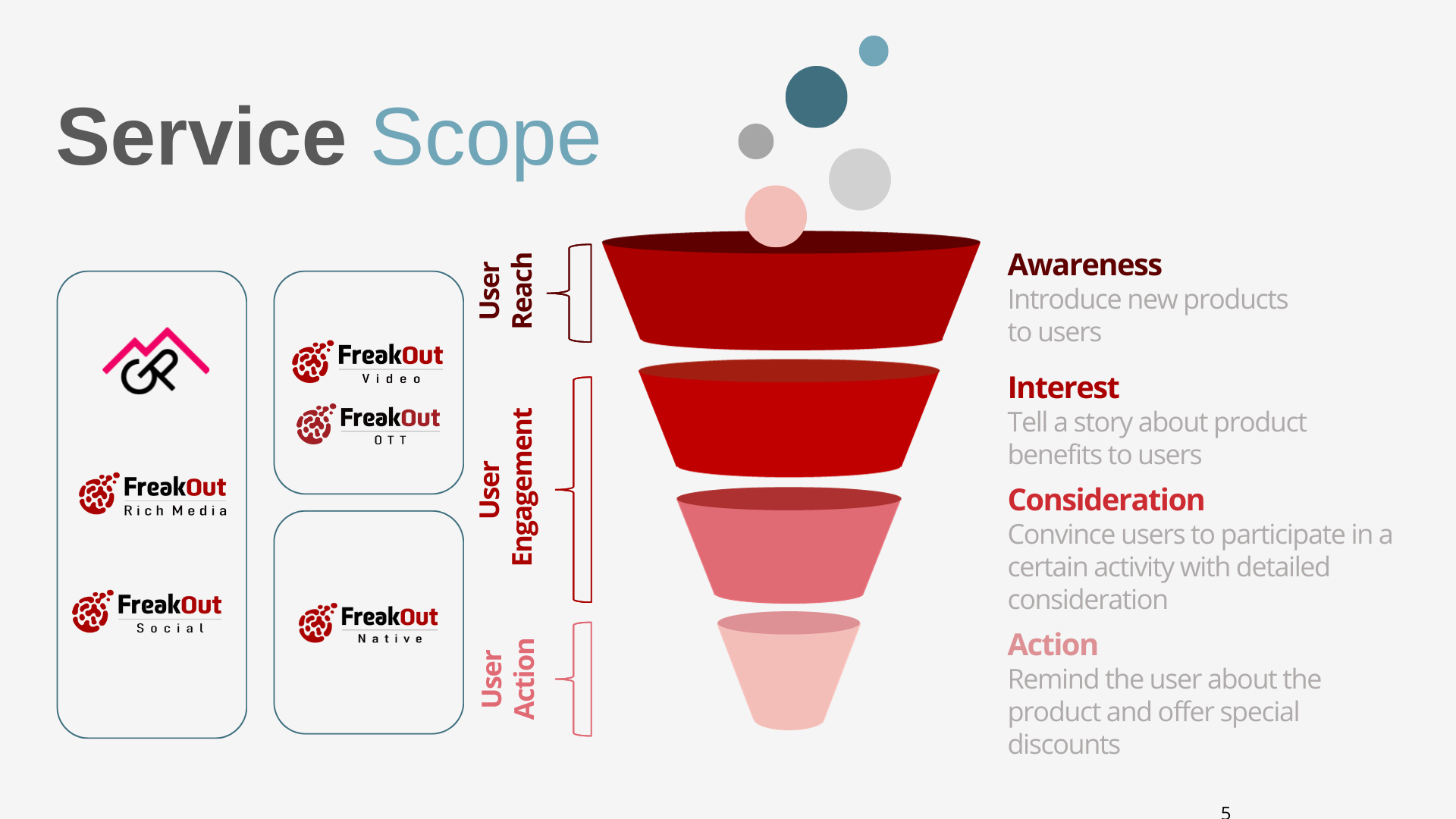 FreakOut has been collaborating with numerous brands during the holiday season to assist them in achieving their marketing objectives. Our approach centres on delivering integrated messaging across our comprehensive suite of solutions, which encompasses OTT, Video, Rich Media, Native, Social, and our latest cutting-edge contextual technology for YouTube and GP.


For Articles Related to Shopping Campaigns
5 Ramadan Campaign Ideas Reflecting on Muslim Consumer Insight
How to Make Your Diwali Campaign Stand Out