Ramadan, the holiest month in Muslim country have just begun. It is the time of spiritual reflection, self-improvement, and heightened devotion and adoration.
Meanwhile, it's also known as a month where the household expenses tend to rise generally because of the festive celebration. For marketers, this is a great opportunity to promote their products & services. In fact, the demand for advertising is at its peak in Muslim countries during this period.
In this article, we will share the consumer insights for Ramadan 2021 along with introducing FreakOut platform making your Ramadan campaign more effective.
5 Insights for Ramadan 2021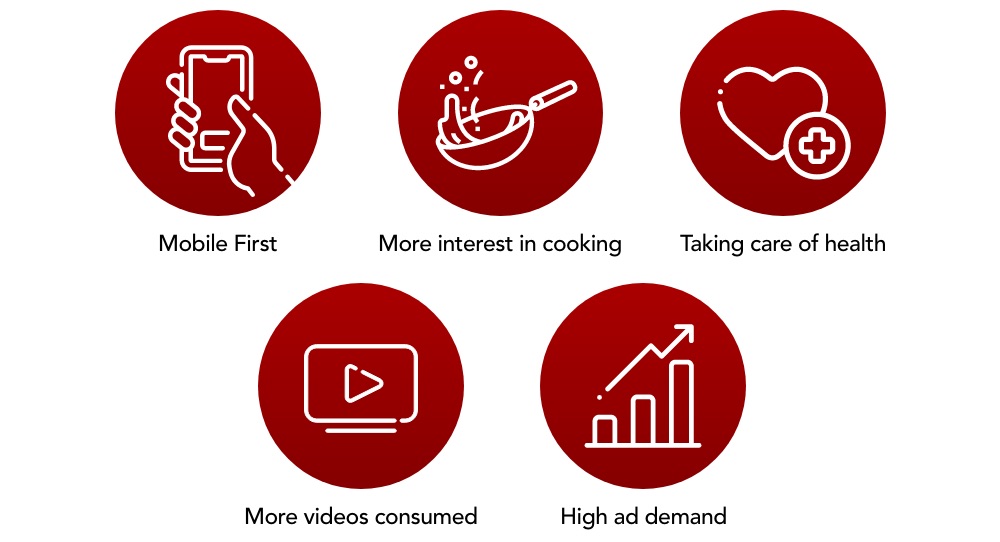 1. People get information via Mobile
Indonesia and Malaysia, the two largest Muslim countries in South East Asia, are also known as Mobile-First Nations. Daily time spent on the internet via mobile reaches more than 5 hours in Indonesia, and more than 4.5 hours in Malaysia. Even for shopping during this Ramadan month, people seem to be using their mobile phones to gather information.
According to the report by Inmobi, 53% of Indonesians and 64% of Malaysians learn about festive season sales and offers on mobile.
Campaign Idea:Use Native Ads to reach the users in Mobile-First Nations
Native Ads, an ad format optimised for the user experience on smartphones is the best way to engage your target audience with your products and services. Especially, Native Search format offered by FreakOut is perfect for online sales promotions whereby it has a keyword search window. When users input keywords and click the search button, they will be led to the search result page of the online shopping mall or advertiser's own e-commerce site.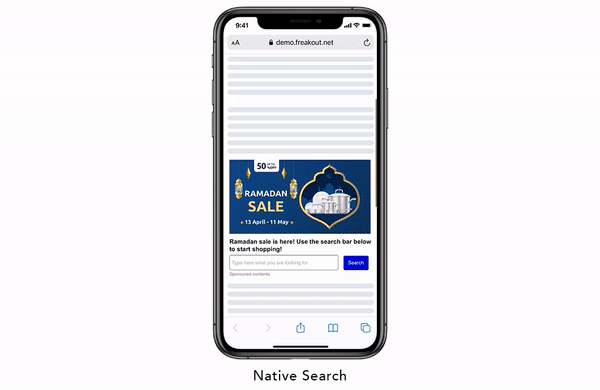 2. Cooking is one of the top interest
According to a survey conducted by Anghami, 60.8% of respondents said that cooking is one of their top interests during Ramadan, and 96% of them will be buying grocery, food & drink products (+56% than the usual).
Dentsu Indonesia also reported that last Ramadan (in 2020) has shown a spike of cooking enthusiasts, due to limitations to eat outside their homes.
In Indonesia and Malaysia, where a large number of Covid-19 positive cases are still being reported everyday, this trend will continue to Ramadan 2021. So, if you offer products or services related to cooking, such as condiments, cookware, grocery delivery, etc., why not promote your products with recipes for Sahur and Iftar meals?
Campaign Idea: Advanced advertising formats with ASMR sounds
FreakOut's new advertising format called "Native Audio" which plays an ASMR* sound along with user click will deliver the unique experience. As a brand, you will get a chance to play with the user's sense of imagination that would lead them to foodgasm.

Our local sales and creative team can offer creatives using this format and time targeting according to your product category and marketing objective.
*ASMR (autonomous sensory meridian response) is the term for the sensation people get when they watch stimulating videos or take part in other activities — usually ones that involve personal attention. Many people describe the feeling as "tingles" that run through the back of someone's head and spine. Others say the feeling is deeply relaxing, and can even cause them to fall asleep. (Source:
vox.com
)
3. Take better care of health
As Ramadan brings change to Muslims in a way to live and eat, people tend to be more careful about their health than usual. According to a survey by Anghami, 55.3% of respondents value their personal healthcare, 56.9% are interested in healthy food & drinks and 52% workout frequently.
Campaign Idea: show how your product can benefit consumer's health
It is a great idea to highlight how your products can help consumers to improve their health.
You can include the product benefits for their health in your ad creatives, as well as prepare contents such as articles, videos or social media posts like "How to stay healthy during Ramadan season"

4.Watching Video is the most preferred activity
Several surveys show that people watch more videos than usual in their free time during Ramadan. Referring to the report by Inmobi, the top activity for ages between 14 to 44 in Indonesia during Ramadan is watching movies. Anghami reported that 71% of respondents use VOD (Video On Demand) platforms during Ramadan.
Campaign Idea: Use video ad creative
Why don't you use video ad creative to approach the people who enjoy their leisure time.
FreakOut offer you the latest video ad solution "FreakOut OTT". It enables you to advertise across top OTT (Over-the-top) platforms in Asia!

5. High demand for advertising
As the chart below shows, people prefer to browse social media, watch videos and chat online with friends while fasting.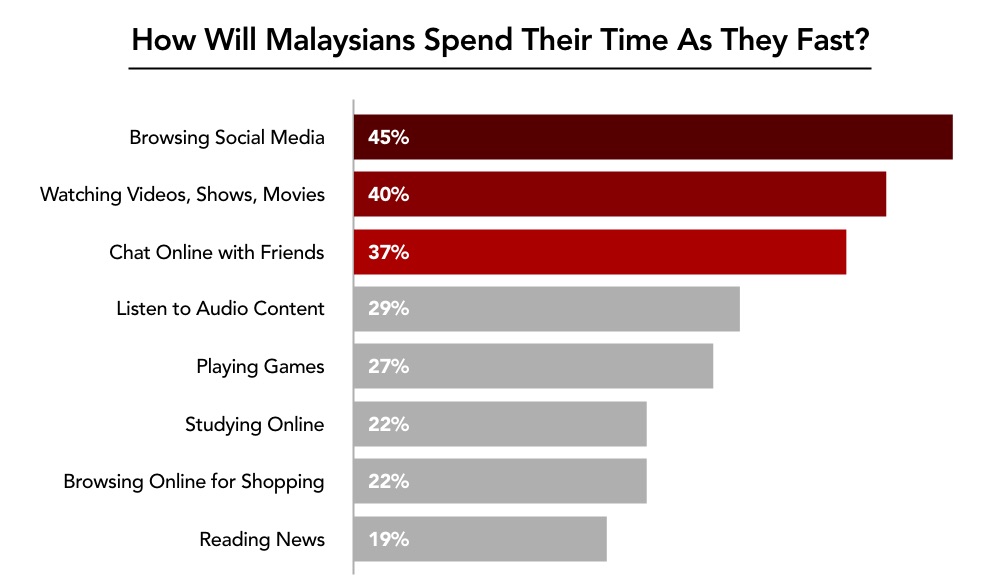 So, finding a way to connect with your potential customers online can be effective.
However, the unit costs of digital advertising on Google and Social Media tend to increase during festival season, because the price change depends on the demand.
The unit cost of FreakOut Social which is the solution to boost social media posts across premium publisher's sites does not change seasonally. Advertisers can increase reach with fixed CPC. It's particularly valuable at this time of year.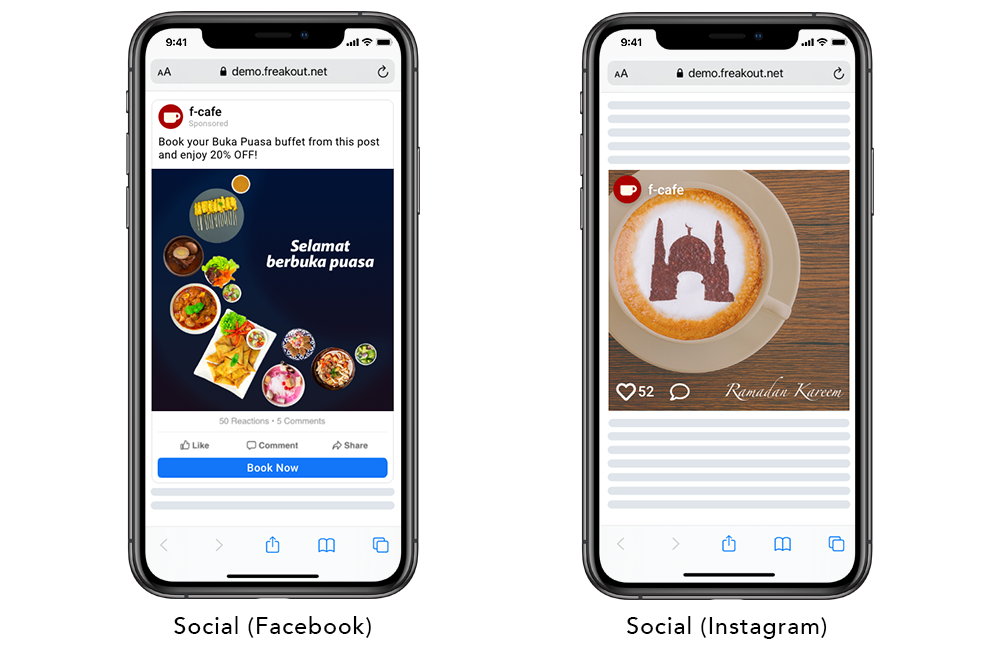 Conclusions
We have introduced the way FreakOut platform can help your Ramadan campaign reflect consumer insights of Ramadan 2021.
Finally, we'd like to mention that marketers should be respectful of the Muslim people and their culture in all their campaigns, because Ramadan is a month that means special to them. Before going live with your campaign, it may be wise to run it across someone familiar with Muslim customs and traditions.
FreakOut Indonesia and Malaysia team are also glad to help to make your Ramadan campaign meaningful and respectful.
Related Articles

Reference List