Ramadan is the holiest month for Muslims around the world. It is a time of spiritual reflection, self-improvement, and heightened devotion and adoration.
The month-long observance of Ramadan culminates in a grand celebration known as Eid. Meanwhile, as families prepare for the festivities, household expenditures typically increase. For businesses and marketers, this presents a prime opportunity to promote their products and services to the Muslim community. In fact, advertising demand reaches its peak in Muslim countries during this period as businesses seek to tap into the heightened consumer interest.
In this article, we will explore important insights and then use those findings to help you create a successful Ramadan campaign this 2023.
5 Insights for Your 2023 Ramadan Campaign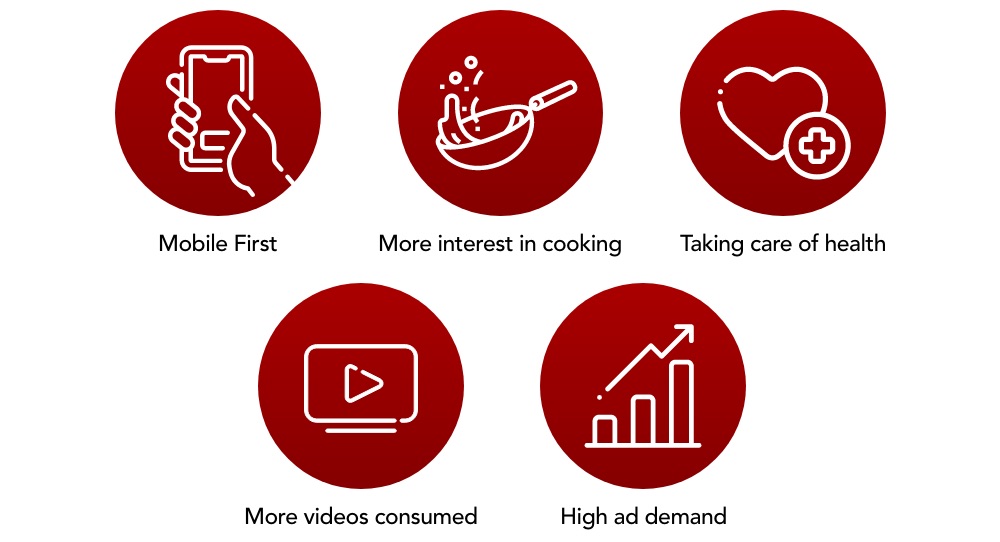 1. People get information via Mobile
Indonesia and Malaysia, the two largest Muslim countries in South East Asia, are also considered to be Mobile-First Nations. Daily time spent on the internet via mobile reaches more than 5 hours in Indonesia, and over 4.5 hours in Malaysia. Similarly, people use their phones to gather information for Ramadan shopping.
According to a report by Inmobi, 90% of Indonesians and 64% of Malaysians learn about festive season sales and offers on mobile.
Campaign Idea: Use Rich Media Ads to reach users in Mobile-First Nations
Rich Media Ads combine multiple media elements to create a more immersive and interactive ad experience for smartphone users, offering unlimited creative potential to deliver your brand's message in a highly saturated environment. This makes it the preferred way to engage your target audience during festive seasons.

Our Drawer format is especially great for displaying your Ramadan offerings in a visually stunning and engaging way. This sleek format allows for quick browsing, directing users to multiple landing pages, and shortening their buying journey. In other words, it's a win-win!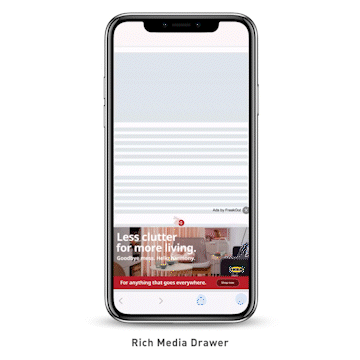 2. Emphasis on cooking and food
According to a survey conducted by Anghami, 60.8% of respondents said that cooking is one of their top interests during Ramadan, and 96% of them will be buying grocery, food & drink products (+56% than the usual).
Dentsu Indonesia also reported that last Ramadan (in 2020) showed a spike of cooking enthusiasts, due to limitations to eat outside their homes.
In Indonesia and Malaysia, where a large number of Covid-19 positive cases are still being reported everyday, this trend will continue to Ramadan 2021. So, if you offer products or services related to cooking, such as condiments, cookware, grocery delivery, etc., why not promote your products with recipes for Sahur and Iftar meals?
Campaign Idea: Advanced advertising formats with ASMR sounds
FreakOut's new advertising format called "Native Audio", which plays an ASMR* sound along with user click, delivers a unique experience that empowers you to awaken the imagination and evoke the senses of your audience

Our local sales and creative team can offer creatives using this format and time targeting according to your product category and marketing objective.
*ASMR (autonomous sensory meridian response) is the term for the sensation people get when they watch stimulating videos or take part in other activities — usually ones that involve personal attention. Many people describe the feeling as "tingles" that run through the back of someone's head and spine. Others say the feeling is deeply relaxing, and can even cause them to fall asleep. (Source:
vox.com
)
3. Increased focus on health
With fasting periods that last up 20 hours, the month of Ramadan brings a change in lifestyle to Muslims around the world. Therefore, people tend to pay more attention to their health than usual. According to a survey on Ramadan consumers by Anghami, 55.3% of respondents value their personal healthcare, 56.9% are interested in healthy food & drinks and 52% workout frequently.
Campaign Idea: highlight how your product can be of benefits to consumers' health and wellbeing
For instance, you can include the product benefits for their health in your ad creatives, as well as prepare content such as articles, videos or social media posts like "How to stay healthy during Ramadan season"

4. Video consumption rises
Several surveys show that people watch more videos than usual in their free time during Ramadan. A report by Inmobi states that the top activity for Indonesian individuals aged 14 to 44 is watching movies. Furthermore, Anghami reported that 71% of respondents use VOD (Video On Demand) platforms during Ramadan.
Campaign Idea: Use video ad creative
Capitalize on the increased screen time and streaming activity with OTT ads. Additionally, this enables you to reach a wider audience in a single impression. With FreakOut OTT, you can connect with viewers across top OTT platforms by serving contextually relevant ads.

5. High demand for advertising
As illustrated in the chart below, people prefer to browse on social media, watch videos and chat online with friends while fasting.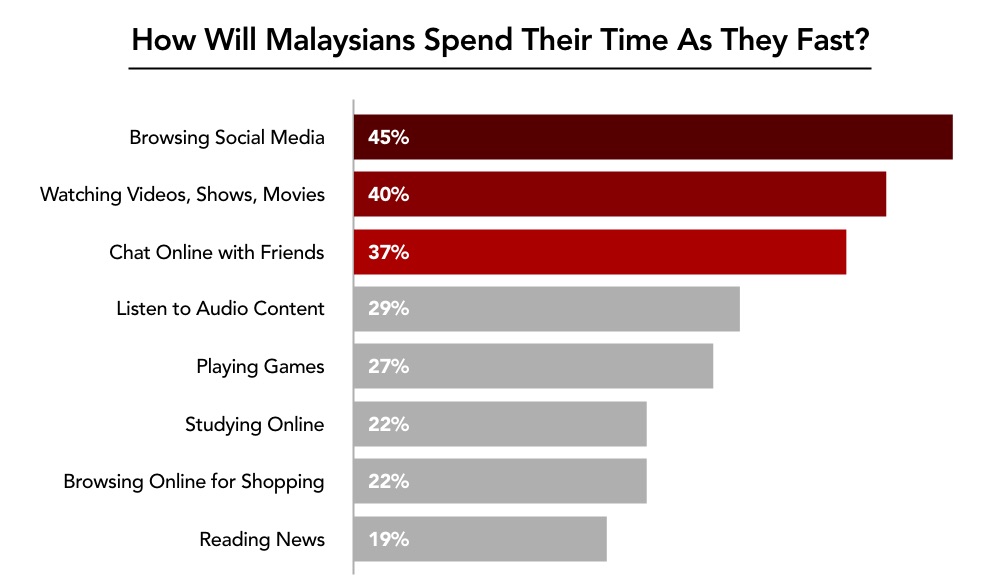 This represents a great opportunity to connect with your potential customers.
However, creating a Ramadan Campaign from scratch can be time-consuming. And, the unit cost of digital advertising on Google and Social Media surges during festive seasons due to the increase in demand. What if there was a way around this?
FreakOut Social is a hassle-free way of creating awareness for your brand and promotions during Ramadan. You can bring your highly performing social media posts to the premium publishers across the m/web in no time. Plus, the unit cost of FreakOut Social does not change seasonally. This means that advertisers can increase reach with a fixed CPC. It's particularly valuable at this time of year.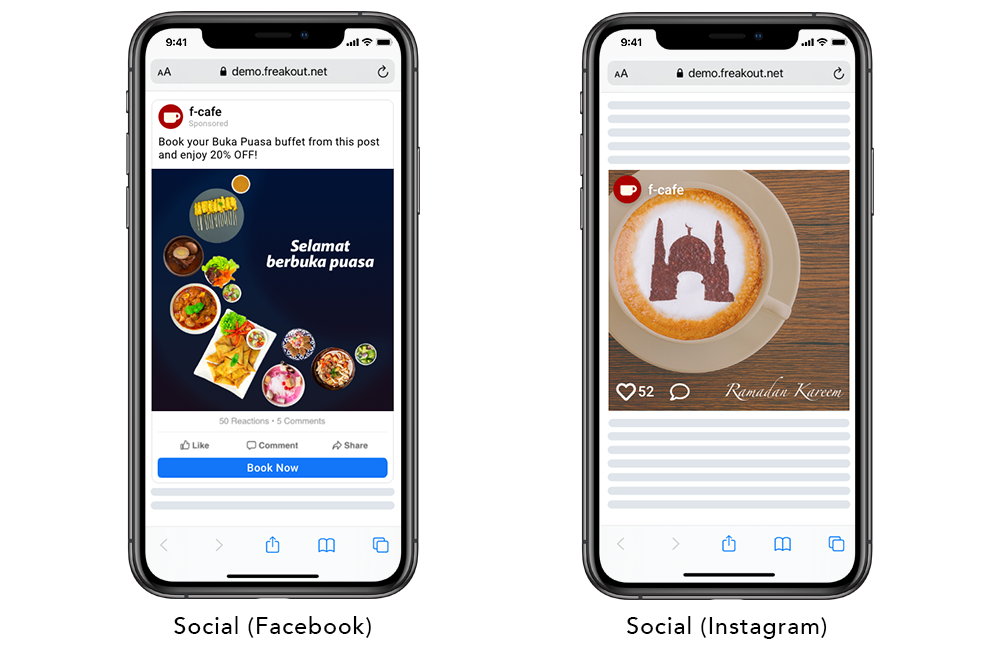 Conclusions
To sum up, understanding consumer insights is the key to successful Ramadan campaigns as it enables marketers to tailor their messaging, products, and services to the needs, preferences, and behaviors of their target audience during this important religious and cultural event.
Above all, it is important for marketers to be respectful of Muslim people and their culture in all their Ramadan campaigns. Therefore, before launching your campaign, it may be wise to seek feedback from someone familiar with Muslim customs and traditions.
The FreakOut Indonesia and Malaysia team is happy to assist you in creating a meaningful and respectful Ramadan campaign.
Related Articles
Reference List