Japan is the third largest game market in the world, after China and the United States. In particular, the online gaming application market is worth 1.3164 trillion Japanese yen (≒12 billion USD) in 2020, an increase of 8.4% over the previous year, and accounts for 2/3 of the whole game market in Japan.
In recent years, not only Japanese domestic but also many overseas gaming apps have entered the Japanese game market thus increasing their market value. However, one of the challenges in entering the market is the promotion method. There are many aspects to consider when localizing your app, such as language, media, channels, target user, and communication methods.
In the previous article, we shared the basic information such as the scale of the Japanese game market, the characteristics of users, and popular apps, etc. In this article, FreakOut's Cross-border app marketing team which helped a number of overseas gaming apps enter the Japanese market, will explain what to keep in mind when marketing gaming apps in Japan and the secret of success.
Characteristics of the gaming app market in Japan
What are the characteristics that we should understand when entering the Japanese gaming app market?
The first thing to know is that in the Japan market, it's difficult for new apps to make explosive hits since older apps are loved for a long time.
Looking at the monthly active user rankings, we can see that many of the top apps have been out for more than 5 years, and the 4th-ranked app, Puzzle & Dragons, has been out for almost ten years.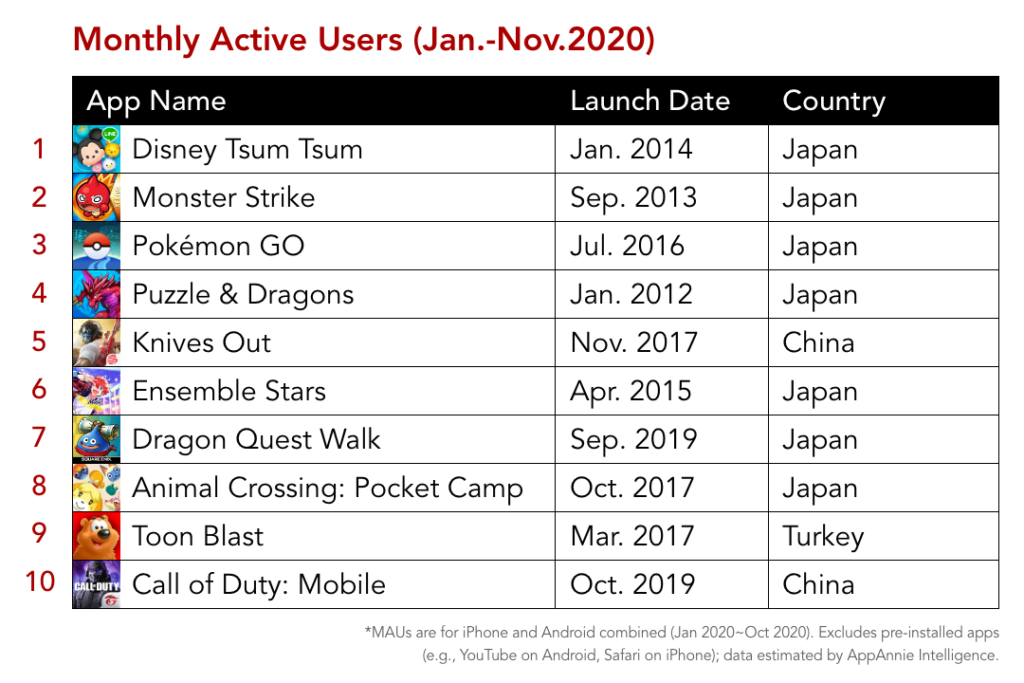 However, the situation has been gradually improving lately. In 2016, the top 10 apps earned 50% of the total market revenue, but in 2019, the top 30~40 apps earned 50% of the revenue.
Challenges of the gaming app market in Japan
What are the factors that prevent new apps from making explosive hits?
We think there are 2 factors that prevent new apps from making explosive hits.
The first is that, as mentioned above, many users prefer to play old hit games. Casual games, such as puzzle games that are gaining popularity, are basically endless and users can enjoy playing them for a long period of time. In addition, events are regularly held in the games, and limited-time contents are added, such as collaborations with other IPs (characters), to keep users interested.
The second reason is the enhancement of entertainment apps besides games (video, music, comics, etc.). In recent years, besides global players such as Netflix and Amazon prime, there has been an increase in the number of local video streaming, music and ebook platforms in Japan. According to a survey by KDDI and Mynavi, more than half of the respondents used video and music streaming and e-book apps, and 76% of them used multiple apps in parallel.
In Japan, where the population is slightly declining and the number of mobile users is not increasing yearly, entertainment content and gaming apps are battling for users' free time.
Characteristics of successful gaming apps
Even in such a situation, what kind of characteristics do successful new gaming apps have?
The top 10 mobile gaming apps by number of downloads in 2020, as shown in the chart below, will answer that question.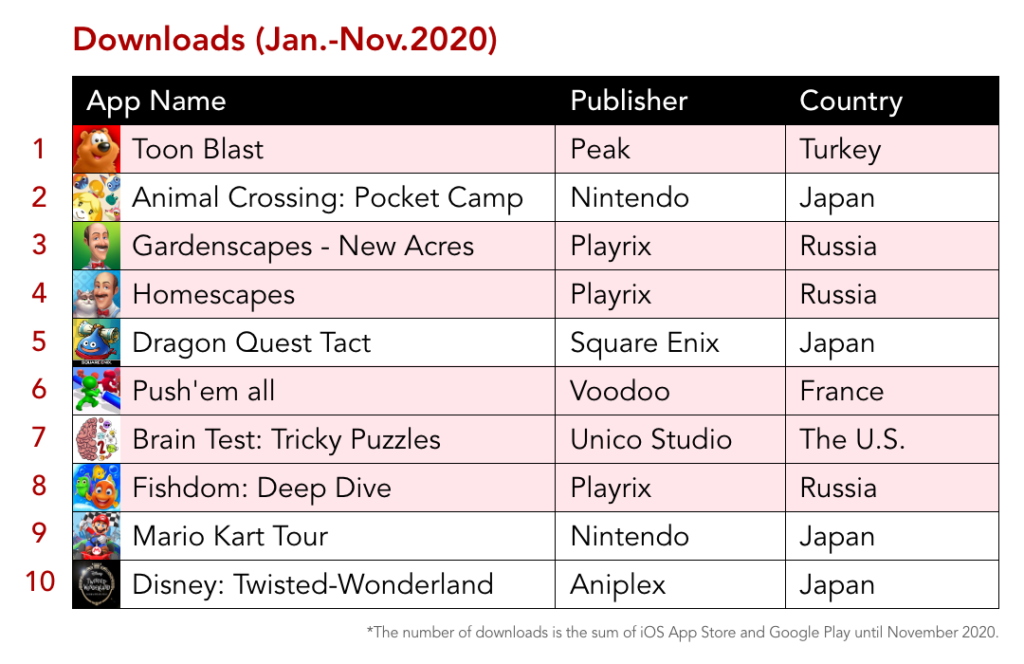 Looking at the table, we can see that 6 of the top 10 apps are from overseas publishers.
For a long time, games produced by Japanese publishers dominated the top rankings because of the language barrier in Japan (the official language is Japanese) and the fact that Japan has many leading domestic game companies such as Sony, Nintendo, and Bandai Namco.
However, in the past few years, apps from overseas companies have begun to be accepted by users.
On the other hand, looking at the Japanese game apps that are still gaining popularity, most of them are IP games featuring characters which are already popular in manga, anime or home video games.
If you are running an IP-oriented game with a large number of loyal fans, Japan may be a market you should consider entering.
However, not all overseas games and IP games achieve success, but only those players who steadily attract users under a well-thought-out marketing plan.
4 keys to success in game marketing in Japan
So, what should we keep in mind when doing marketing for gaming apps in Japan?
We believe that the following 4 points are important.
Acquire a large number of users at the beginning.
Create a buzz with highly recognizable creative for UA.
Regular product promotions to drive activation and paying.
Create interaction inside and outside the game to increase user loyalty.
Acquire a large number of users at the beginning
Most successful gaming apps implement a large-scale marketing campaign at the time of market launch. By acquiring a large number of users early on, you can build buzz. The initial users will share about the game on social media and video platforms, which will help you gain awareness from more people. They may also recommend the app to their friends if they like it.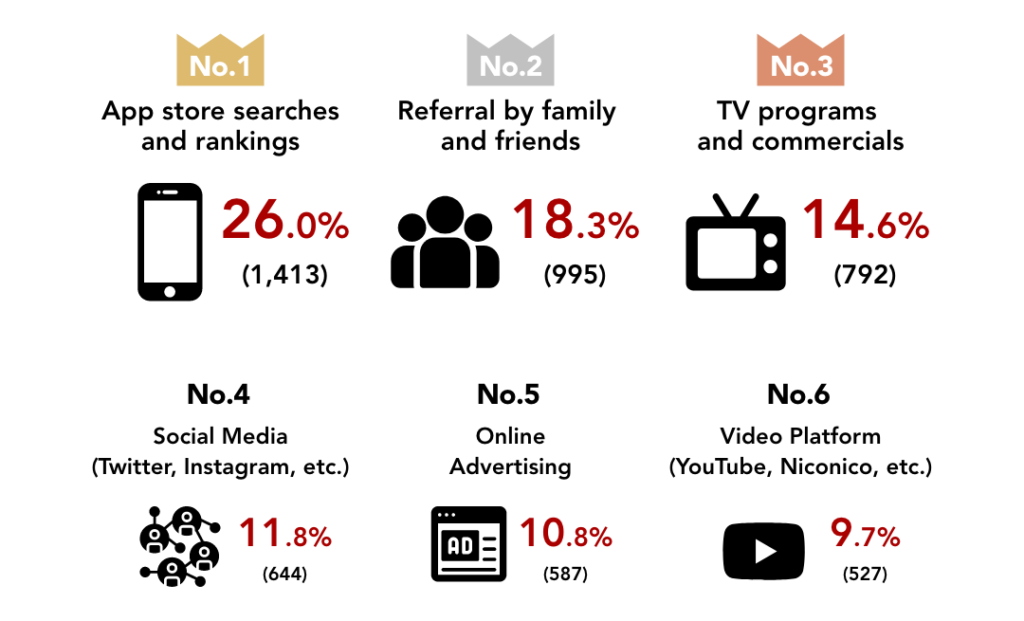 As for detailed marketing strategies for market entry, we would like to explain in our future article, but basically we combine the following channels accordingly the content of the app and target user segment.
TV commercials
OOH
Promotions in the app stores
YouTuber tie-up videos
Advertorial
Social media marketing (operating official accounts, influencer marketing and social ads)
Online advertising
One thing we would like to add here is that even if the products is consumed online, marketing activities need to be conducted both online and offline.
Create a buzz with highly recognizable creative for UA (User Acquisition)
It is not enough to simply conduct marketing activities on a large scale; the key to successful marketing is to produce effective creatives that attract users.
For IP games, this means putting the characters in the forefront and attracting users with catchy music and copies. In recent years, there has been an increase in the number of TV commercials for mobile gaming apps using famous actors and celebrities. Also, in Japan, voice actors of anime and video games often have a passionate fan base, so they are often featured in the creative.
Furthermore, optimizing creatives according to the channel is essential. It is best to seek the help of local Japanese marketers who are familiar with the kinds of content, format and copy most likely to be accepted on each marketing platform.
We must also remember to pay attention to the wording of CTA buttons that encourage users to take action.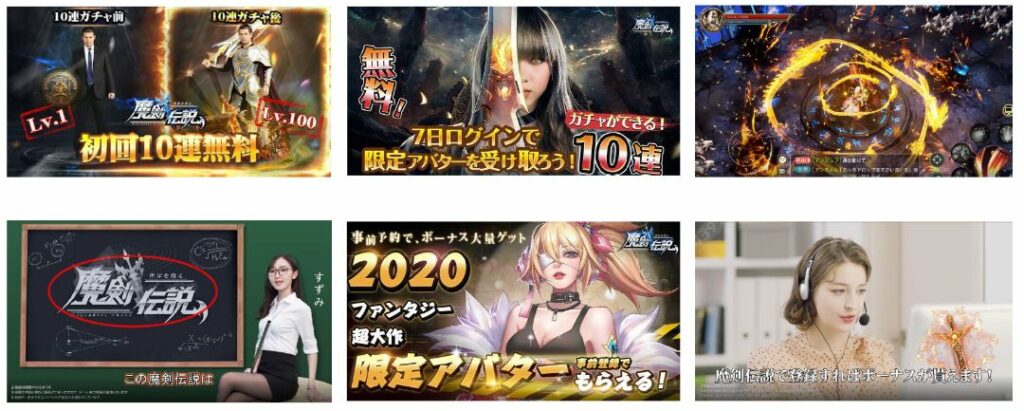 Regular product promotions to drive activation and paying
Most of the gaming apps downloaded in Japan are based on the free-to-play model, which means that you need to monetize your app by either paying for items to be used in the app or by advertising. Therefore, after getting people to download the app, we need to keep them playing it.

According to "Mobile Market White Paper 2020," by Fuller, the average number of apps owned by Japanese in 2020 reached 103.4. However, the average number of apps used was 38.5 in the same year, and that only 40% of all apps are actually used.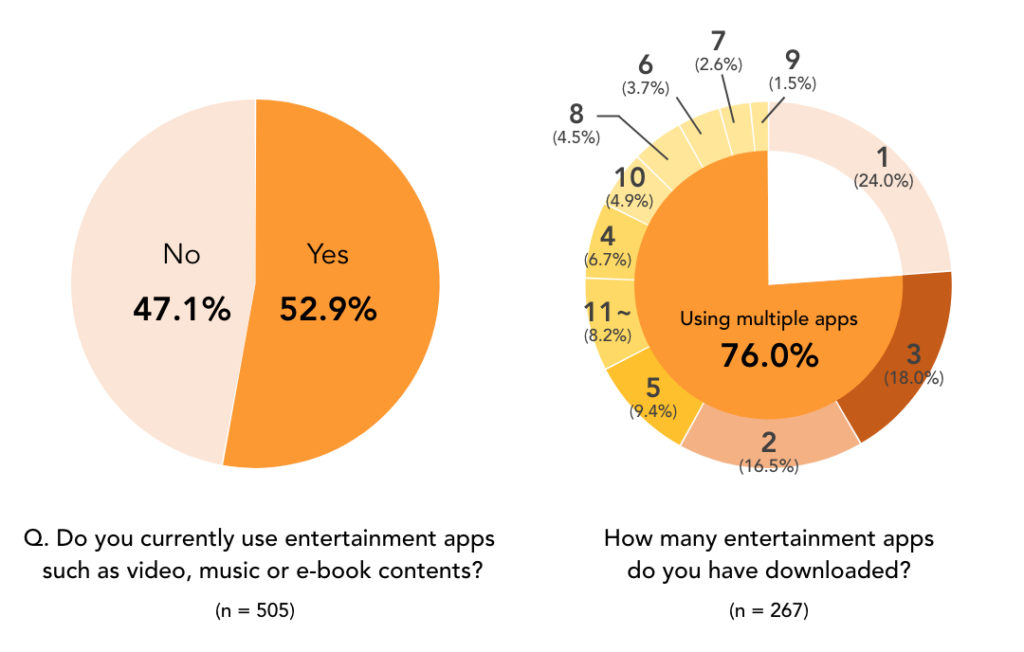 There was also a survey that said Japanese people have the highest number of smartphone apps in the world.
Even in such a situation, in order to get users to continue playing on your gaming app, you need to continuously promote it and encourage users to activate and pay for it. This is called "retention marketing," and its importance has become a common understanding among app marketers.
Since the target of retention marketing is users who have already downloaded the app, the focus is on data-driven measures on smartphones, such as online ads and pop-ups.
Then, we group users by their playing status, preferences, billing rate, etc., and create ads campaign to each group. We also need to constantly improve the creative, copy, and targeting segments based on the results.
Create interaction inside and outside the game to increase user loyalty
By giving users a place to interact with each other, you can increase their engagement with your app. You have to create effective paths for them to enjoy the game long-term, become core fans of the game, and consequently, pay for it.
In-game interactions include teaming up with other players, in-game chat/messaging functions, and ranking systems.
On the other hand, interactions outside of the game are such as offline user gatherings, participating in large-scale game events, offering limited-time collaboration meal with restaurants, and interacting on online forums and social media groups.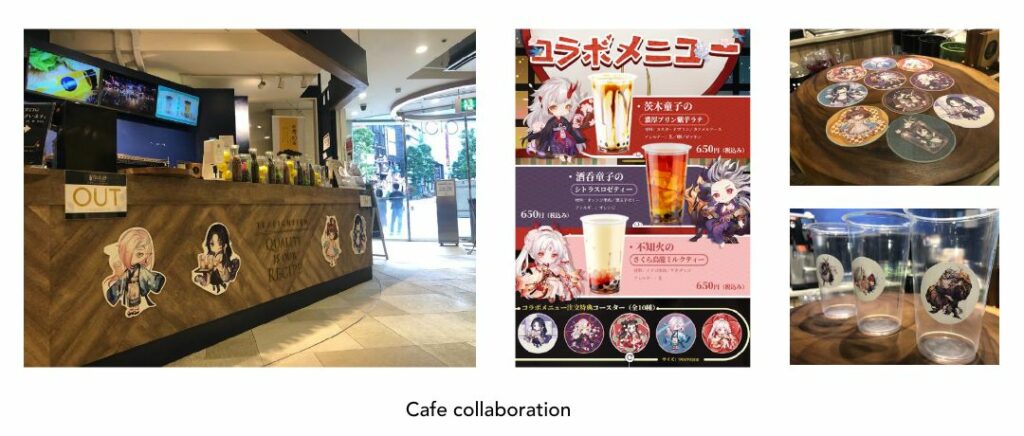 Conclusions
In this article, we have shared the characteristics of the mobile gaming app market in Japan and the keys to successful marketing.
In addition to the language barrier, the Japanese market is dominated by local players in terms of platforms and media, so it is essential to have the support of local Japanese marketers who have experience in the market.
At FreakOut, we have a team dedicated to supporting the marketing of overseas gaming apps in the Japan market. We can provide one-stop support for offline and online media buying, talent assignment, creative production, and advertising campaign operations.
If you would like more information, like case studies, quotations, or proposals for your app's promotion, please feel free to get in touch with us from the button below.
Reference List