About The Campaign
This Merdeka and Malaysia Day, Wall's Ice Cream embarked on a mission to make a resounding impact with their Take Home Ice Cream Campaign. Centred around themes of unity, sharing, and togetherness, their creative and messaging radiated the spirit of Merdeka. To amplify this message, Wall collaborated with a local artist, Michael Chuah, who lent his creative prowess to design their Gift with Purchase (GWP) merchandise.
In their endeavour to bring this campaign to life and reach a broader audience, Wall's' media agency, Mindshare, teamed up with their trusted ad tech partner, FreakOut, to effectively convey the message of unity and celebration during these special occasions.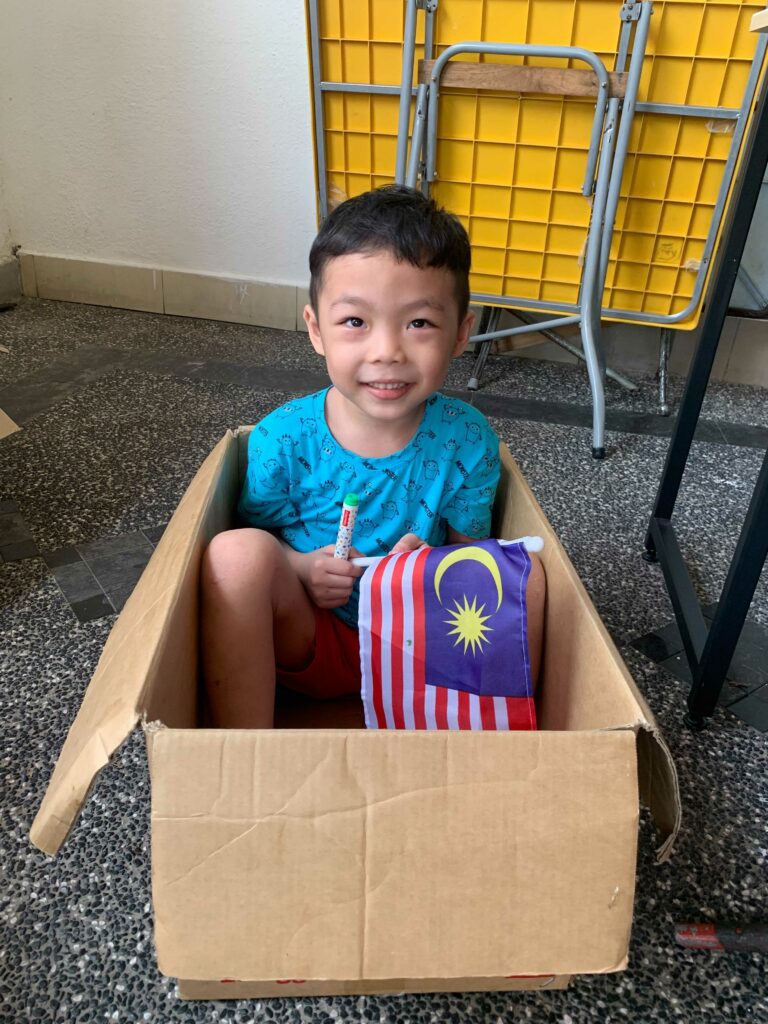 FreakOut saw this as an opportunity to go one step further to give back to the community together with Wall's. So, in a heartwarming display of patriotism and camaraderie, FreakOut and Wall's set out to make this year's Merdeka and Hari Malaysia celebrations truly special for the children at Yayasan Sunbeams Home by orchestrating a fun-filled day of games, ice creams, and prizes! FreakOut and Wall's also collectively donated provisions to support the home. The focus of this initiative was simple yet profound: spreading cheer, having fun, and creating unforgettable memories.
Our Vist to Yayasan Sunbeams Home
The visit took place on the 7th of September, 2023 and began with an ice-breaker session with the children, fostering a warm and welcoming atmosphere. As the day unfolded, the children delighted in the Wall's Ice Cream, all while patriotic songs played in the background, enhancing the festive spirit. The evening continued with more fun interactions with the kids, as the representatives from FreakOut took the lead in organising and facilitating entertaining games for the children. The visit concluded with the handing out of prizes, eliciting a touching "thank you" chant from the kids.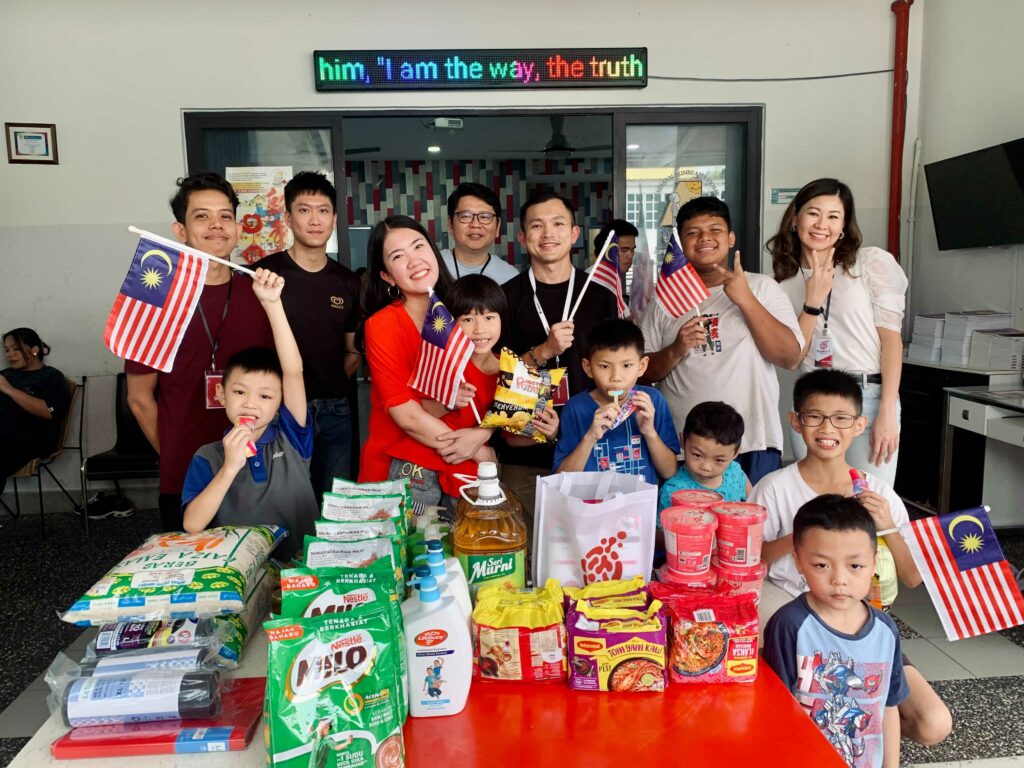 Beyond the joy it brought to the team from Wall's, FreakOut, and the children, the event also stirred the spirit of unity and togetherness that Malaysia Day and Merdeka inspire. It served as a poignant reminder that acts of kindness have the power to foster bonds and spread happiness within the community.
Wall's and FreakOut remain committed to their mission of adding value and look forward to continuing their efforts to make a positive impact on their communities.
At Wall's, we are dedicated to making moments of happiness accessible to everyone. This CSR project was a perfect alignment with our values, and what better way to celebrate Malaysia than by empowering our Children, who represent our future. We look forward to such meaningful collaborations in the future and extend our gratitude to FreakOut and Yayasan Sunbeams for making this event a success.

Randy Ng, Wall's Take Home Ice Cream Manager
FreakOut believes our resources and expertise can add value and make a positive impact on the communities we serve. This project allowed us to not only commemorate this year's Merdeka theme but also create beautiful memories with these children. It was truly a heartwarming experience. We are grateful to Wall's for agreeing to carry out this initiative with us and the team at Yayasan Sunbeams for their guidance and assistance throughout this movement

Melinda Yap, Head of Sales at FreakOut Malaysia

The collaboration between Wall's and FreakOut serves as a shining example of how brands can come together to make a meaningful difference in the lives of children. The emphasis on ice creams and creating sweet memories resonates deeply with the spirit of Merdeka and Hari Malaysia, reminding everyone that it's the little things that matter the most.

____________________________________________________________________

About Yayasan Sunbeams Home
Yayasan Sunbeams Home is a non-governmental, self-supporting foundation which cares and nurtures for the displaced, abused and neglected children of single parent. It was founded in 1995 by Pastor Alvin Tan and his late wife Pastor Lucy, both teachers by profession. Their calling began when they decided to bring home a young child and care for him, because his parents were unable to do so. From this humble and selfless gesture, their vision emerged for a Home in which they would devote their lives to the welfare of children, some as young as babies only a few months old.

For more information, visit https://sunbeamshome.org/
About Wall's
Wall's, born in 1922 from a butcher's eureka moment, has grown from serving sausages to cooling Londoners with delicious ice cream. We've journeyed from horse-drawn carts to iconic 'Stop Me and Buy One' tricycles, spreading joy across the city.
Our legacy includes beloved treats like the Twister and Feast, products of innovation and hard work. Today, Wall's ice creams are savored in over 50 countries worldwide, under various names, all united by our iconic heart logo. Committed to delighting taste buds, our journey continues, driven by the same passion that started it all. Wall's, where ice cream dreams come true. For more information, visit https://www.walls.com.my/home.html
Mindshare Malaysia is the leading media services company with a 20.9% market share in Malaysia (source: RECMA). We are part of a global media agency network with billings in excess of US$34.5 billion (source: RECMA). The network consists of more than 7,000 employees, in 116 offices across 86 countries worldwide. Mindshare has a wide portfolio of blue-chip clients, both multinational and local, across a wide spectrum of industries, including FMCG, Telecommunications, Finance, Retail, Automotive, Property, Travel, Entertainment and more. Mindshare is part of GroupM, which oversees the media investment management sector for WPP, the world's leading communications services group.
About FreakOut
FreakOut is an innovative ad tech solution provider offering products for display, video, and YouTube ads. FreakOut's digital advertising solutions are meticulously designed to help clients advertise their brands and products across all stages of the marketing funnel. Regionally headquartered in Singapore, FreakOut has 11 offices across 10 countries which include Japan, China, Malaysia, Indonesia, Philippines, South Korea, Taiwan, Vietnam, and the USA.
FreakOut is a part of FreakOut Holdings, Inc. which is listed on the Tokyo Stock Exchange (TSE:6094) and oversees the investments for FreakOut. For more information, visit freakout.net
More From FreakOut
A Tribute to Brands and People in Food Bank Movement in Malaysia